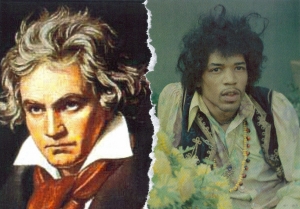 November 28, 2012
No? The evidence:
— Both Sagittariuses
— Both thrilled and terrified princes and princesses with their playing — way beyond anyone else around at the time — and both busted up their instruments.
— Both imagined a sonic grandeur beyond what there instruments were capable of… till they advanced the technology and made it happen.
— Both were so shockingly revolutionary that composers and players are still playing catch-up.
No? Then try this:
Play your record of Beethoven's Emperor Concerto, first couple of minutes. Imagine you're back in 1809. You're thinking:
"Whoa! Never heard anything like that before! Aren't concertos supposed to start off with the orchestra charting out a theme? Not here! Ka-boom! An orchestral chord explosion. Which triggers a barrage of solo piano fireworks: 'Who's your daddy, now?' Then another explosion and more solo fire: 'Yeah, that's right: Not your daddy's concerto. OK, now we've established who's boss, let's play the tune.'"
Now place your tonearm down on Jimi's "House Burning Down." Hear any difference from the Emperor opening? No, you don't. Not at the core. Same creative DNA. Substitute "guitar" for "piano" and you'd be loath to describe the works differently.
No? Still no?
C'mon! Just look at the hair!
(See also: http://donaldstark.com/news_notes/doppelganger)
Categories: Composers, Musicians, Unified theory of music