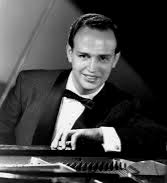 October 01, 2015
Who's the top-selling pianist in history?
If you chimed in with LOUIS JACOB WEERTZ, you'd be right!
Later rebranded after the guy who founded Rhode Island, this latter-day Roger William hit gold with his rendition of that most poignant of ballads, Autumn Leaves, with his signature descant. Part finger-busting Hanon exercise in chromatically descending major thirds, half tone painting of the wafting descent of fall foliage.
After that, 18 gold and platinum albums, as charted by Billboard.
Born on this first day of October — same exact day as Jimmy Carter — Maestro Weertz would've turned 91 on this first day of Ocotber.